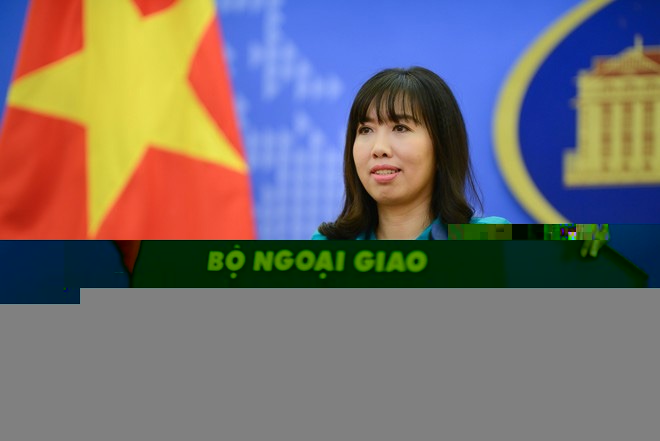 Reacting to the decision of Slovakia's Government to expel a diplomat in Vietnam's Embassy in Bratislava for participating in the abduction of Mr. Trinh Xuan Thanh in Germany, the Vietnamese Ministry of Foreign Affairs said in an emailed statement to Reuters: "We are considering appropriate measures to bilateral relations, international law and practice."
This is just a phrase in a foreign language, with a humiliating nature, but Vietnam cannot take any measures because it is serious when Vietnam's senior officials used the Slovak government's airplane to take an abducted citizen out of the EU.
One day after Slovakia announced the expulsion of a Vietnamese diplomat for involvement in the abduction of Trinh Xuan Thanh, Hanoi condemned Slovakia and said the action was "incompatible with the traditional friendship between the two nations," according to Reuters.
On 6 February, the Ministry of Foreign Affairs of Slovakia reported sending a deportation notice to Ambassador Duong Trong Minh in Bratislava saying "one of his diplomats had to leave the country within 48 hours" because the person was "unwelcome," due to the abduction of businessman-former petroleum official Trinh Xuan Thanh when he was seeking asylum in Germany in 2017.
"Slovakia made this serious decision in relation to the final verdict of the German Supreme Court on the abduction of a Vietnamese," the Slovak news agency TASR quoted the Feb 6 announcement as saying. The ministry said "there will be serious diplomatic consequences" once "serious doubts about (Vietnam) 's abuse of Slovak hospitality are officially confirmed."
 
The case was uncovered after investigators discovered in the archives of the Slovak Ministry of Interior a bill worth 17,000 euros – charged the Ministry of Public Security of Vietnam for the cost of the flight to Moscow on July 26, 2017.
The German news website Taz reported that on that day a Slovak government plane made a special trip to Moscow. This time was three days after Mr. Trinh Xuan Thanh was abducted from Germany's Tiergarten park in Berlin. On the special plane, there was the presence of Vietnamese Minister of Public Security To Lam, who had just had an hour-long visit with his Slovak counterpart Robert Kalinak.
In addition to Mr. To Lam, there were two Deputy General Directors of Security and Intelligence of Vietnam, a number of others and a man named Trung Vien Luu. The witness said that Trung Vien Luu could not walk without assistance; This person only used a Vietnamese passport and did not have a mark of entry into the Schengen area but was allowed to leave Slovakia on that government plane. According to speculation, this character was abducted Trinh Xuan Thanh and travelled with a fake passport.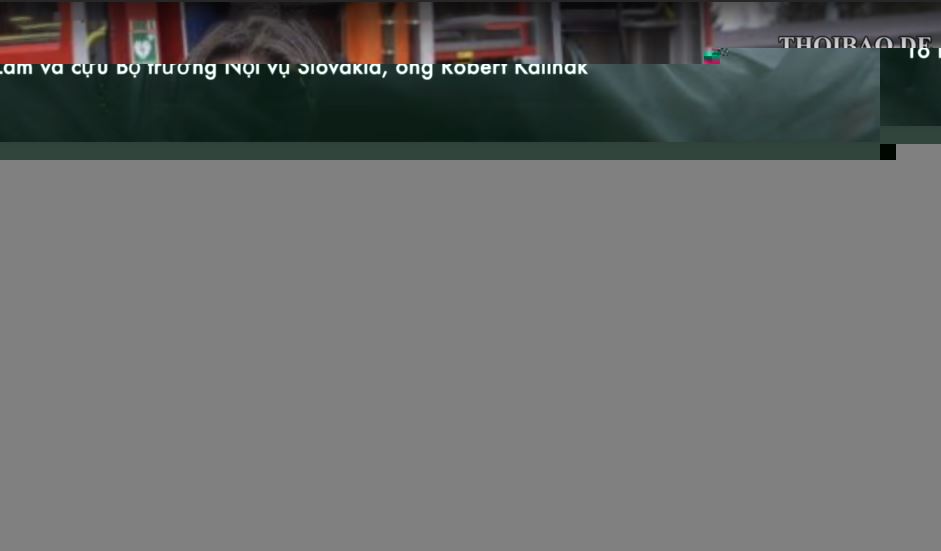 Former Vietnamese petroleum official Trinh Xuan Thanh was accused of corruption and fled to Germany to apply for asylum. Thanh was then taken back to the Czech city of Brno, and then continued to Bratislava, the capital of Slovakia, on a car hired by a Vietnamese agent.
Sources later said that Vietnam continued to transport Mr. Thanh to Moskow by plane of the Slovak government, before returning to Hanoi.
This is a flight itinerary for a Slovak Government special aircraft lent to Lam to abduct Mr. Trinh Xuan Thanh on July 26, 2017 leaving Europe
"For Slovakia, it was necessary to investigate who was involved in the abduction of my client by using a government plane," Aktuality quoted Thanh's lawyer as saying.
Before the decision to deport Slovakia, on February 4, the German federal court rejected the appeal of defendant Nguyen Hai Long, the last suspect in the kidnapping. Mr. Long was sentenced to 3 years and 10 months in July by a Berlin district court for espionage and accomplice in the illegal arrest of Mr. Trinh Xuan Thanh for renting a car that drove Mr. Thanh to Slovakia.
The German side said that Trinh Xuan Thanh had been abducted by a Vietnamese intelligence on a street in Berlin and transported to Slovakia, then brought to Vietnam on a plane borrowed by Slovakia to take to Russia. In Hanoi, where he was tried and sentenced to life in prison in 2018 for "Deliberately violating the State regulations on economic management causing serious consequences" and "Property embezzlement".
The abduction stressed the relationship between Germany and Vietnam after Germany condemned Vietnam for "violating international law" and deported the Vietnamese diplomat, whom the German side said was intelligence, involved. to the abduction.
German media and Trinh Xuan Thanh's lawyer in Berlin, convinced that he was living in Berlin and being considered for asylum for political reasons, suddenly appeared in Hanoi on state television. with the application for surrender.
That is why the Federal Republic of Germany has launched a cross-country investigation concerning the Czech Republic and the Republic of Slovakia.
The Slovakian side is still investigating whether the Ministry of Home Affairs officials lend the plane to Vietnam 's Ministry of Public Security to transport abducted Trinh Xuan Thanh from Germany to Vietnam via Slovakia.
The German government has officially accused Vietnam of abducting Trinh Xuan Thanh right from Germany in 2017 and considers it an act of violating German law and international law, and demanding that Vietnam return Trinh Xuan Thanh back. for Germany.
Slovakia's Prime Minister, Peter Pellegrini, said on August 6, 2018 his government will conduct an investigation into a suspected involvement in Germany's accusation that Vietnam came to kidnap a former oil official to Hanoi. to prosecute. That was Mr. Trinh Xuan Thanh's case.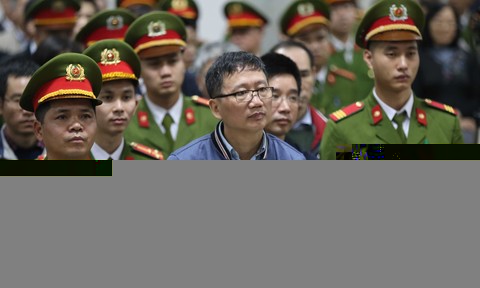 Later, the former Slovak Interior Minister denied any involvement in the mission of the Vietnamese Minister of Public Security, General To Lam, to borrow a plane to transfer Trinh Xuan Thanh out of Slovakia.
News related to the involvement of Slovakia was widely circulated after one of the suspects in the abduction of Mr. Trinh Xuan Thanh, Mr. Nguyen Hai Long, suddenly appealed the sentence of 3 years and 10 months in prison that Superior Court The judge sentenced Berlin.
The German Federal Court of Justice upheld the lower court's verdict against Nguyen Hai Long, the prosecutor accused Mr. Long of renting a car to bring Trinh Xuan Thanh, the former chairman of the Vietnam Oil and Gas Group's firm, and a woman accompanied Thanh from Germany.
Since the incident, the Hanoi government insisted that Mr. Trinh Xuan Thanh had surrendered and that he was taken to trial and sentenced to two life sentences on charges of corruption.
Relations between Germany and Vietnam have deteriorated after this incident. Berlin announced the termination of a strategic partnership with Hanoi, as well as a cessation of visas for Vietnamese officials who bring official passports to Germany for work.
The Slovak Republic News Agency reported on August 7, citing Robert Kalinak about performing a test with a lie detector for a related incident.
The four main questions the machine raised to Mr. Robert Kalinak were whether or not he knew about the abduction at the time a Vietnamese minister visited Slovakia; whether Mr. Kalinak himself helped organize the abduction; whether he instructed Ministry of Home Affairs officials to participate in the abduction; Do you know if a drunk, beaten Vietnamese was present in the delegation to Bratislava last year.
Mr. Robert Kalinak answered no to all four statements and was said to be telling the truth.
The news also quoted Robert Kalinak as a test conducted by an expert who had previously carried out the test against OLANO opposition leader Igor Matovic.
The Dennik N newspaper last week reported that some Slovak officials helped in the abduction of a Vietnamese citizen traveling through Bratislava on a Slovak mission plane.
Robert Kalinak denied that charge.
Reports recorded on August 17 show that Slovak Prime Minister Peter Pellegrini, in an interview with Plus 1 Den, criticized President Andrej Kiska when saying that the Bratislava government was a government due to mafia control.
Prime Minister Peter Pellegrini objected to President Andrej's statement and explained that he had never had any connection with the mafia.
In response to Prime Minister Peter Pellegrini's comments, the Slovak President's spokesman told the Dennik N daily newspaper that the Prime Minister was in a difficult situation because he was a part of a partisan party that, according to investigations. German officer, assisted in the abduction of Mr. Trinh Xuan Thanh.
But according to the spokesman of the Slovak president, Prime Minister Peter Pellegrini still has a chance to stay away from the incident and prove that he is not just a puppet for others to pull the strings.
Last week, after a meeting with Prime Minister Peter Pellegrini, the Slovak President criticized the leadership of the Slovak Government involved in the kidnapping. He also declared that he did not trust Interior Minister Denisa Sakova, who was also accused of directly assisting the Vietnamese delegation in the kidnapping of Trinh Xuan Thanh.
The Communist Party of Vietnam (CPV) is dominating over 90 million people in this country. They are accustomed to the act of repressing, beating, imprisoning and killing Vietnamese people whenever they want, without going through independent court trials.
With the same attitude, Mr. General Secretary exhorted to arrest Thanh, and they eventually chose to invade European and German territory to kidnap Vietnamese citizens, despite the severe consequences for the country.
Through this action, the Communist Party has proven itself to be corrupt, to become an international terrorist organization that people around the world are always afraid of and condemn, prevent.
Trung Hieu from Hochiminh city – Thoibao.de (Translated)